Classic Plus Orthopedic Mattress elected the "Right Choice" by DECO PROTESTE
The right choice for a good night's sleep is at Mindol. We spend about a third of our lives sleeping, so we must pay special attention to the mattress on which we sleep an average of eight hours every day for 8 years. Have you ever thought about the time it takes? We spent around 23,360 hours sleeping!
Classic Plus Orthopedic Mattress: the right choice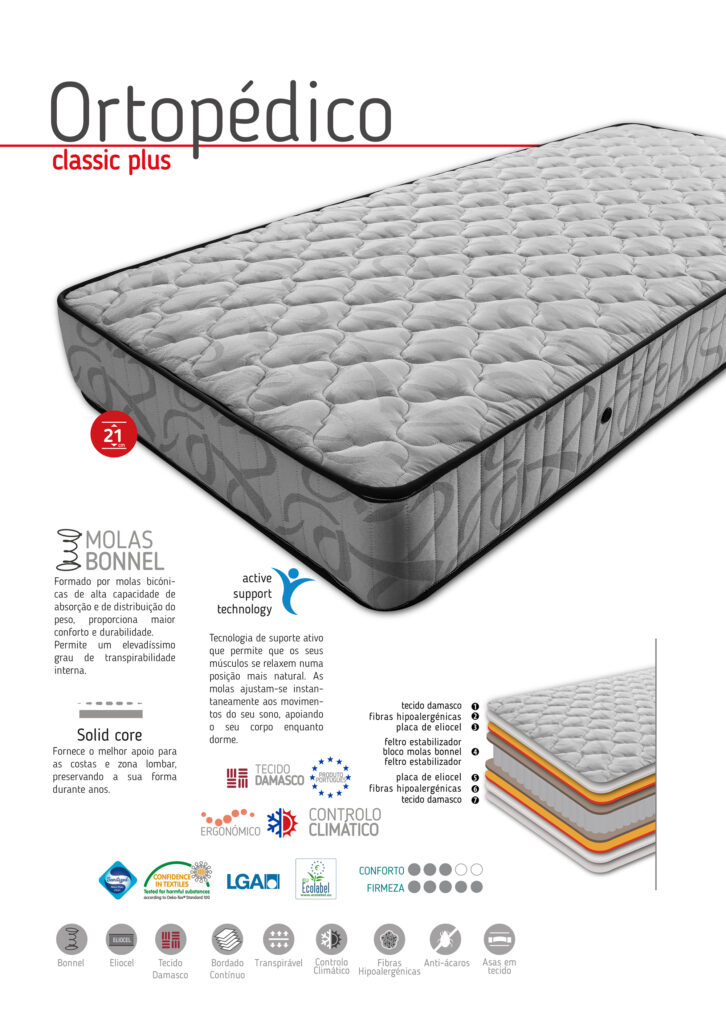 The Classic Plus Orthopedic mattress is a Bonnel spring mattress (traditional springs). These springs have high absorption capacity and weight distribution, providing greater comfort and durability. Therefore, this mattress also has a high degree of breathability and air vents on the side.
Active support technology allows muscles to relax in a more natural and correct position. The springs instantly adapt to movements, supporting the entire body while you sleep. This mattress is still composed of a foam board that adds comfort and hypoallergenic fibers that prevent the accumulation and proliferation of mites and bacteria.
The damask fabric is soft to the touch and cool to keep the bed warm.
You can try this mattress at one of our partners. Send us a message to find the store closest to you.
What is DECO PROTESTE?
DECO PROTESTE  is the largest consumer protection organization in Portugal and was created in 1991. It is the only organization to test products, compare quality and deliver the best results. Therefore, it intervenes with public and private entities to defend consumer rights.
How are seals assignments made?
Recommendations are assigned based on the results of independent benchmarking they do. The quality assessment criteria vary depending on the type of product or service evaluated and are set by DECO PROTESTE, before carrying out the analysis or test, based on standards (national or international) or the best practices in the sector.
In order to independently review the products, refuse free samples and purchase all tested products. In addition, it still researches the sale price to the public in stores. Afterwards, the laboratories test the products and the specialists evaluate and highlight the most advantageous options.
Right Choice Seal
In order to make good recommendations, the Right Choice seal is awarded to products that obtain the minimum level of Good Quality and present the best Overall Quality/price ratio.
Author: Inês Estrela
You may also like: