Since 2014, Mindol has been the exclusive representative of the Spanish brand BSensible. It was chosen due to its national recognition, quality of its products and values.
BSensible origin
BSensible brand bed protectors are designed and manufactured by Bedding Industrial Beguda SL, located in the south of Spain.
The MITSA and BIB Group relies on naturally sourced fibers such as TENCEL™ fibers and SMARTCEL™ sensitive fibers that help maintain environmental balance. These fibers originate from eucalyptus wood and are certified as being organic, manufactured with sustainable processes, certified as biodegradable, thus being able to fully revert to nature.
Mattress protectors are important accessories for the conservation and hygiene of mattresses, helping them to remain clean and new for longer, thus preserving their warranty. In addition, they help to prevent or minimize the effects of respiratory allergies, as they are easy to care for and can be washed regularly, which makes them very practical.
Advantages of B-Sensible protectors:
Waterproof
Bi-elastic
Soft
Hypoallergenic and Antibacterial
100% Natural Fiber
Breathable, thin and silent membrane
Cosmetic effect
Skin cell regenerator
Bad odor inhibitor
You can go in the washing machine
You can go to the dryer
Easy to carry, you can take it with you when traveling
BSensible Products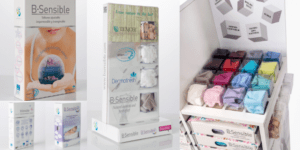 Mattress protector BSensible
The mattress protector adapts to any type of mattress and has several measurement options, from single to double. Due to its elastic finish, it is very secure, covering 5 sides of the mattress. Available for double and child size beds in 16 colors.
Faldon
The faldon is the protector for mattresses with heights between 48cm and 50cm, and has all the characteristics of the sheet protector.
BSensible protective pillowcase
Pillowcase protects and maintains your pillow's features.
This pillow cover has a zip Available in 16 colors.
Cosmetic
Protective mattress sheet and protective pillowcase with cosmetic effect. It has a 3D fabric that allows air circulation and helps in the regeneration of skin cells.
Nordic
Nordic duvet protective cover. It maintains all the characteristics of the duvet and keeps it cleaner, preventing the accumulation of unwanted dirt.
Duo
Guard for articulated beds. Super elastic and adaptable, this sheet is perfect to use on a mattress that is on an articulated bed.
Polaris
The Polaris sheet and protective pillowcase promote a cooling effect, reducing the thermal sensation up to 3ºC. This effect results from the combination of tencel fiber with HDPE fiber, a Japanese technology.
Mattress and pillow covers will help increase product life and cleanliness. However, there are other precautions to be taken into account and you should analyze the condition of the products.
If you want to know more about this product, fill in the form.